GoldenEagles.net is not affiliated with the University of Southern Mississippi.

It was created and registered on the 10th of May 1999 for the personal enjoyment of Southern Miss fans everywhere.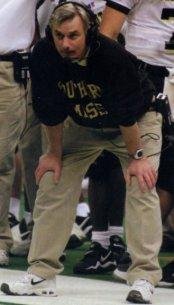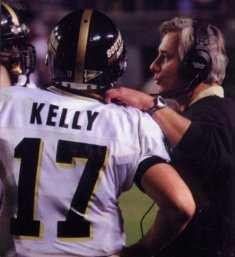 Year

2004

2003

2002

2001

2000

1999

1998

1997

1996

1995

1994

1993

1992

1991

1990

Record

7-5

9-3

7 - 6

6 - 5

8 - 4

9 - 3

7 - 5

9 - 3

8 - 3

6 - 5

6 - 5

3 - 7 - 1

7 - 4

4 - 7

0 - 1

Postseason - Accolades

C-USA Coach of the Decade

New Orleans Bowl Champions

C-USA Champions

C-USA Coach of the Year

Liberty Bowl

Houston Bowl

Mobile Bowl Champions

C-USA Champions

Liberty Bowl Champions

C-USA Coach of the Year

Humanitarian Bowl

C-USA Champions

Liberty Bowl Champions

C-USA Coach of the Year

C-USA Champions

All-American Bowl

"Great things have happened (Here at Southern Miss), but the future holds even more tremendous opportunities for Golden Eagle Football."








- Coach Jeff Bower
Under Coach Bower, the Golden Eagles have posted an impressive 89-61-1 record.  In the C-USA era, his teams have posted a 36-8 league record.  He is the dean of conference coaches.  His 126games coached makes him only the second coach ever to coach more than 100 games, Pie Van the other.  Bower also has compiled that enviable record while playing only 43 of those 114 games at home.  His teams have posted a 35-8 record in those 43 games, including a 15-3 mark the last four seasons.  Overall, his teams have won 32 games while losing just 15 in the last three seasons.

Bower's career totals as a player included completing 278 or 506 passes for 3,589 yards and 20 touch- downs.  He still holds the USM career mark for completion percentage among players with a minimum 200 pass attempts with a .549 mark.  His 1973 total offense mark of 1,706 yards still ranks as the ninth best at Southern Miss, and his 1,495 passing yards in 1973 still ranks as the tenth best in Golden Eagle history. 

During his coaching career, Coach Bower has coached numerous All-American and All-Conference selections.  Besides Brett Favre and Reggie Collier, Bower has had a hand in the careers of former USM offensive players Glen Howe, Mike Landrum, Marvin Harvey, Louis Lipps, Sammy Winder, Fred Brock, Terry Hardy, Michael Jackson, Harold Shaw and Tony Smith, all of who went on to play professional football.  In addition, four of his 1999 player were drafted. including receiving standouts Sherrod Gideon, Todd Pinkston, and line-backer T.J. Slaughter.

Jeff and Debbie Bower bleed Black and Gold.  Coach Bower received his MBA in management from
Southern Miss
in 1978, is married to a former Miss USM (1975) and Miss Mississippi USA (1972).  The former Debbie Pawlik, who was a USM cheerleader and a member of the Kappa Delta sorority while at USM, graduated with a nursing degree in 1975.  She remains active in the USM Eagle Club and with a variety of other USM promotional efforts.
The Bower family, which includes their youngest daughter Stephanie, survived a gut wrenching tragedy in 1997 when they lost their 17 year old daughter
Kristen
in an automobile accident.  The Southern Miss, and the entire Hattiesburg community rallied around the Bowers in an unprecedented show of love and support following the accident.
It is obvious where the team gets it's character, heart and courage!

Birthplace:     Glassboro, NJ

Birthdate:     May 28, 1953

Education:    B.S. , MBA,  University of Southern Mississippi

My first job:    Assistant Coach, Southern Miss

The best thing about football is:    the competitive environment and the challenges the sport offers

The person I amire most is:    my father

If I won a million-dollar lottery, I would... endow a scholarship at USM, invest the rest.

My favorite past time is:    golf

My best accomplishment is:    winning five state championships in high school

Most people just can't believe that I...occasionally drive my wife's pink Cadillac (she's a Mary Kay cosmetics director)

If I could change one thing about myself, it would be:       to be more patient

The biggest risk I ever took was:    investing in the stock market

If I were given an all-expense-paid vacation, I would go to... Palm Springs, CA or Australia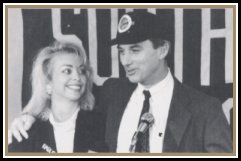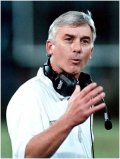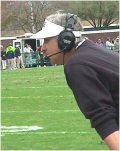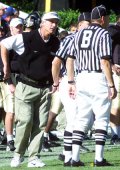 "I am happy here and plan on staying at Southern Miss as long as they will have me. I am here for good."








              - Coach Bower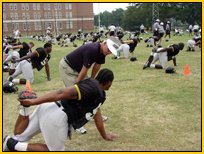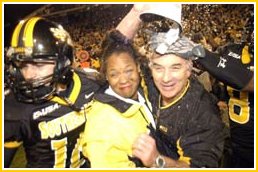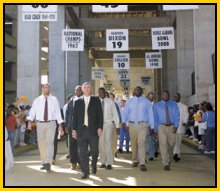 Dec. 2, 1990, Jeff Bower officially was announed as the 17th head coach of Southern Miss